Three Column Cash Book
A triple column cash book or three column Cash Book is one which consists of three separate columns on the debit side as well as credit side for recording cash, bank and discount. The discount column on the debit side of the cash book will record discounts allowed and that on the credit side discounts received. Discount columns in both side are not balanced only totaled.
>> For Practice you can use Cash Book Format.
Three Column Cash Book Examples
Example # 1:
From the following transactions write up a three column cash book for Zakir Khan & Co.
2016     
June 1     Cash in hand Rs. 2,000 and Bank Overdraft Rs. 1,500.
"     7      Received cash from Riaz & Co. Rs. 190; discount allowed Rs.10.
"     12     Sales by check Rs. 1,000.
"      15     Deposited cash Rs. 1,200 to bank account.
"      20    Paid to Waqas Shahzad Rs. 485; discount received Rs. 15.
"      25     Received check from Salman of Rs. 500 and deposited.
"      27     Paid to Hassan by bank Rs. 300.
"      28     Mr. Salman check of dated 25th has been dishonored due to technical reasons.
Solution:
>>> Different Three Column Cash Book Problems and Solutions can use for practice.
Example # 2:
For the following transactions, you are required to describe side of cash book (Debit or Credit) and the column in which amount is entered (Cash, Bank or Discount).
Example # 3:
From the following particulars write up the cash book of Rashid Khwaja Trading Co. for the month of October, 2016.
October, 2016
1.   Cash in hand Rs. 200; Balance overdrawn at Bank Rs. 400.
2. Cash sales Rs. 1,500; Banked cash Rs. 1,200.
7. Paid Habib & co. by check Rs. 150.
10. Received Abdul's check Rs. 850 and deposited into bank.
14. Paid salaries in cash Rs. 250; bought goods for cash Rs. 140.
16. Drew from Bank for office use Rs. 160.
21. Cash sales Rs. 21; paid wages in cash Rs. 120.
23. Received by check from Aftab Ahmed Rs. 360; Discount Rs. 10.
24. Abdul's check returned by bank unpaid.
27. Sent a check to Jones for Rs. 175; Discount received Rs. 5.
30. Deposited Aftab's check.
Solution: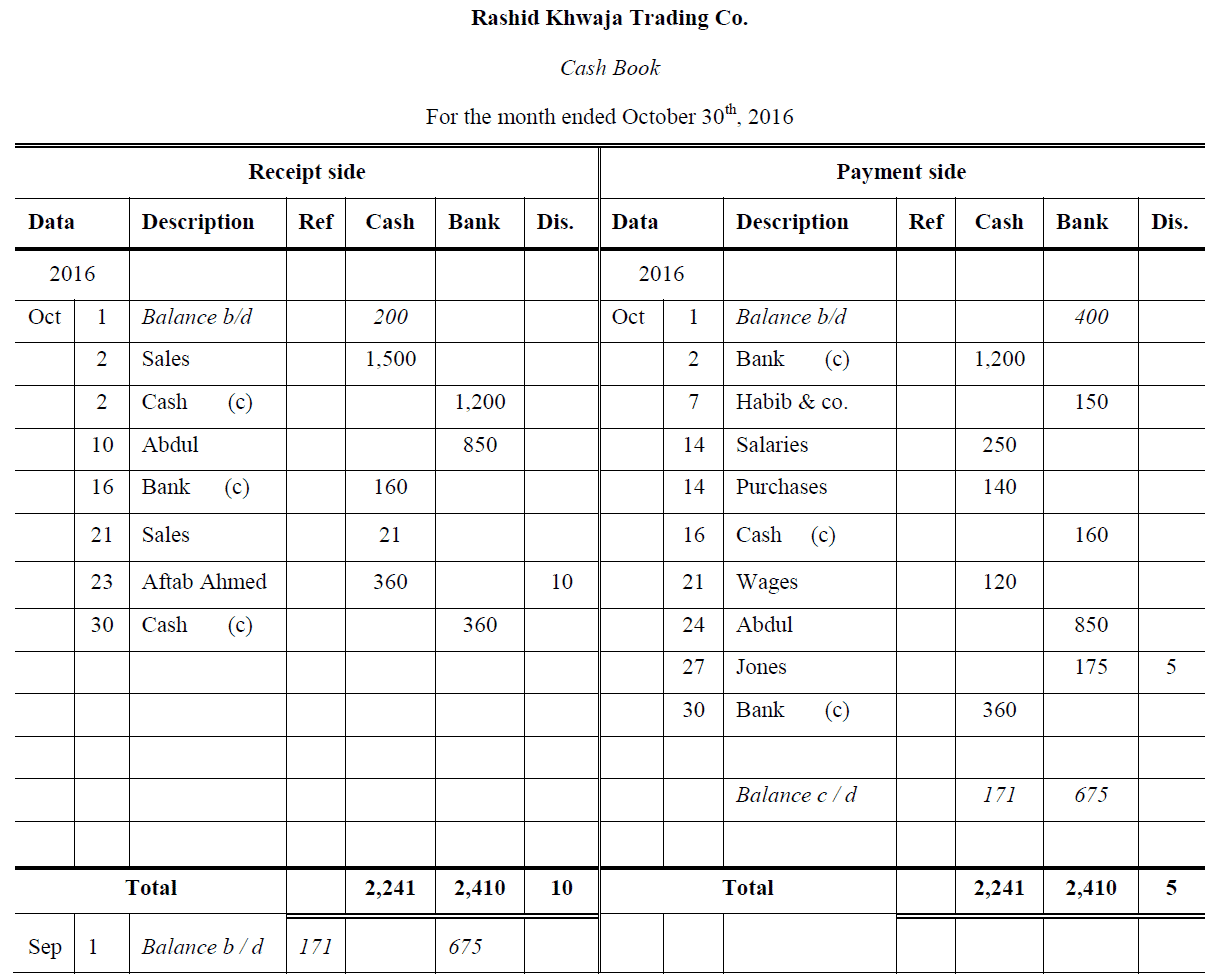 >>> Practice Cash Book Quiz 3.
References
Mukharji, A., & Hanif, M. (2003). Financial Accounting (Vol. 1). New Delhi: Tata McGraw-Hill Publishing Co.
Narayanswami, R. (2008). Financial Accounting: A Managerial Perspective. (3rd, Ed.) New Delhi: Prentice Hall of India.
Ramchandran, N., & Kakani, R. K. (2007). Financial Accounting for Management. (2nd, Ed.) New Delhi: Tata McGraw Hill.