Financial Statement
End result of financial accounting is Financial Statement. It consists of income statement, statement of owners' equity balance sheet, cash flow Statement and ending notes.

Companies prepare four financial statements from the summarized accounting data:
Income Statement
An Income Statement presents the revenues and expenses and resulting net income or net loss for a specific period of time. It shows result of operation for a certain time period. Income statement is sometime called 'flow statement' or 'period of time' statement.
Statement of Owner's Equity
Statement of Owner's Equity summarizes the changes in owner's equity for a specific period of time. In case of company this statement is also called statement of shareholder's equity or statement of retained earnings.
Balance Sheet
Balance Sheet reports the assets, liabilities, and owner's equity at a specific date. This statement show financial position for a specific point in time. Balance sheet also called statement of financial position or statement financial condition.
Cash Flows Statement
Cash Flow Statement Summarizes information about the cash inflows (receipts) and outflows (payments) for a specific period of time, these statements provide relevant financial data for internal and external users. Cash flow statement is divided into three sections, operating activities, investing activities or financing activities.
Notes to the Financial Statement
The annual report contains the primary financial statements, notes to the financial statements and accompanying information. Notes to the financial statements are essential in amplifying and explaining the primary financial statement.
Example 1:
Prepare an Income Statement, a Retained Earnings Statement, and a Balance Sheet for the medical practice of Aftab Ahmad from the items listed below for the month of October 2017:
Retained earnings (October 1) Rs. 15,000 Common stock Rs. 30,000
Accounts payable 6,000 Equipment 29,000
Service revenue 23,000 Dividends 6,000
Supplies expense 3,500 Cash 13,000
Utilities expense 700 Supplies 2,800
Salaries and wages expense 7,000 Accounts receivable 10,000
Rent expense 2,000
Solution: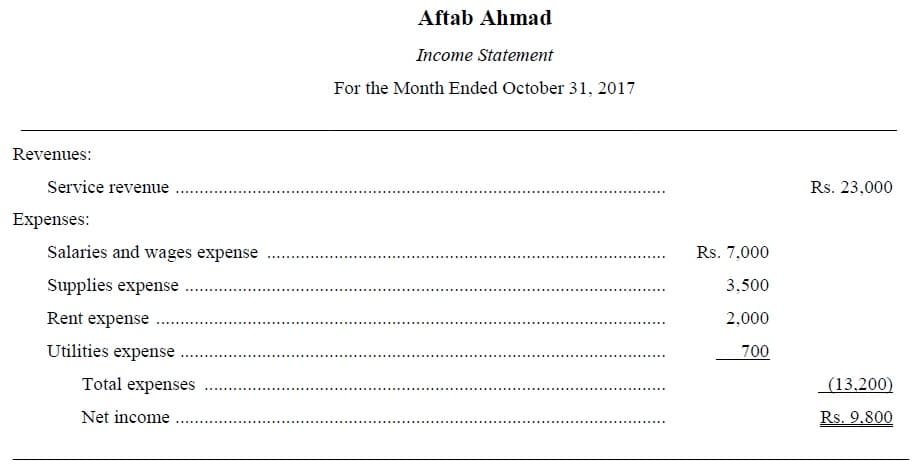 >>> Practice Financial Statement Examples.
Example 2:
Use the following accounts and information to prepare, an Income Statement, a Retained Earnings Statement, and a Balance Sheet for Usman Abdullah Industries for the month ended August 31, 2017.
Accounts payable Rs. 1,100 Dividends Rs. 3,000
Accounts receivable 5,400 Insurance expense 1,200
Buildings 63,000 Supplies 1,400
Cash 20,600 Notes payable 3,300
Service revenue 25,700 Rent expense 3,400
Common stock 52,000 Salaries expense 10,000
Retained earnings (beginning) 25,900
Solution: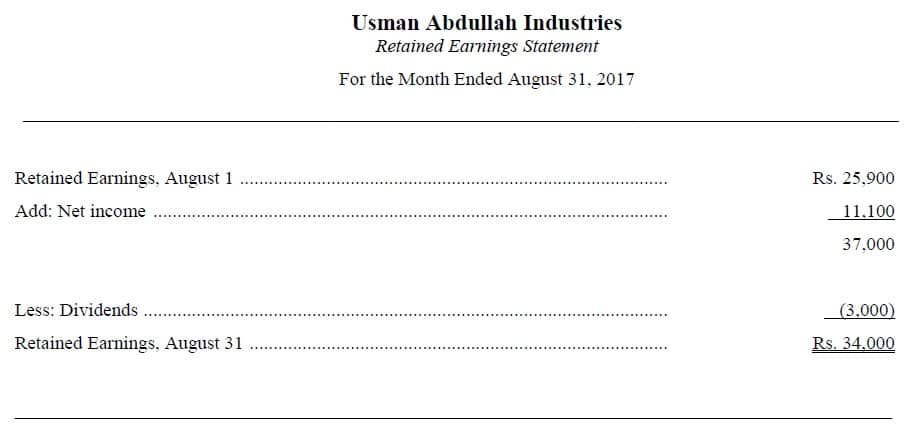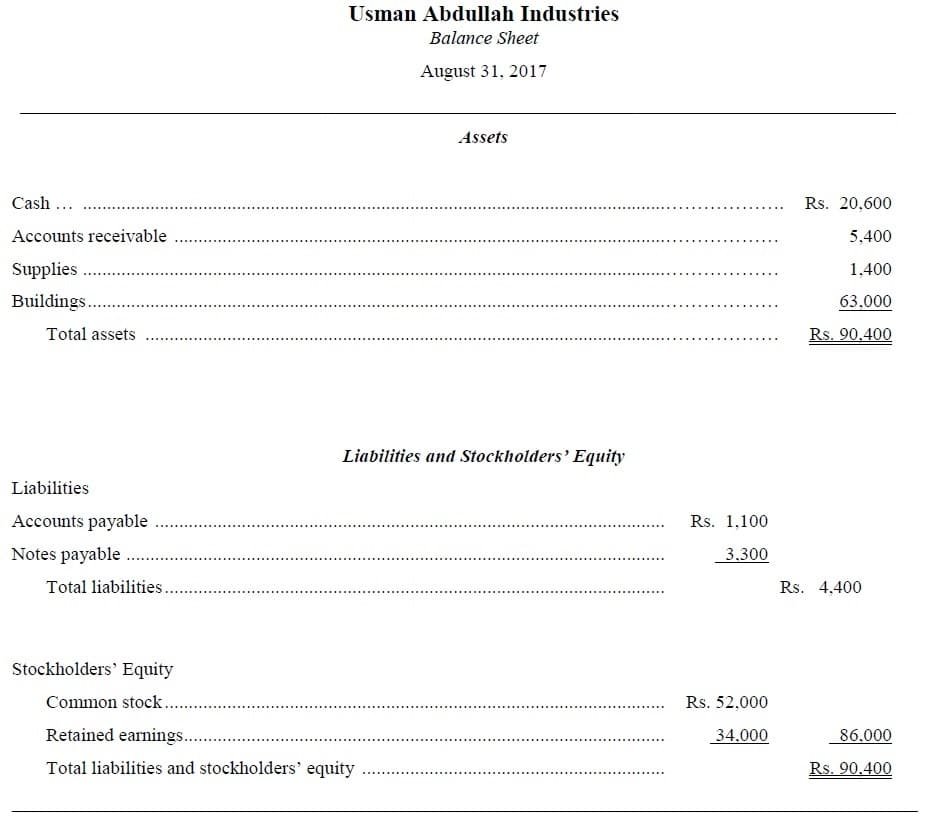 References
Mukharji, A., & Hanif, M. (2003). Financial Accounting (Vol. 1). New Delhi: Tata McGraw-Hill Publishing Co.
Narayanswami, R. (2008). Financial Accounting: A Managerial Perspective. (3rd, Ed.) New Delhi: Prentice Hall of India.
Ramchandran, N., & Kakani, R. K. (2007). Financial Accounting for Management. (2nd, Ed.) New Delhi: Tata McGraw Hill.