Business Idea to Trial Balance Case Study
Ms. Rabia spent much of her childhood learning the art of cookie-making from her grandmother. They passed many happy hours mastering every type of cookie imaginable and later creating new recipes that were both healthy and delicious.
Now at the start of her second year in college, Ms. Rabia is investigating various possibilities for starting her own business as part of the requirements of the entrepreneurship program in which she is enrolled. A long-time friend insists that Ms. Rabia has to somehow include cookies in her business plan. After a series of brainstorming sessions, she settles on the idea of operating a cookie-making school.
She will start on a part-time basis and offer her services in people's homes. Now that she has started thinking about it, the possibilities seem endless. During the fall, she will concentrate on holiday cookies. She will offer individual lessons and group sessions (which will probably be more entertainment than education for the participants). Ms. Rabia also decides to include children in her target market.
The first difficult decision is coming up with the perfect name for her business. In the end, she settles on "Cookie Creations" and then moves on to more important issues.
Question 1:
What type of business i.e. sole Proprietorship, Partnership, or Joint Stock Company do you recommend that Ms. Rabia use for her business? Discuss the benefits and weaknesses of each form and give the reasons for your choice?
Solution: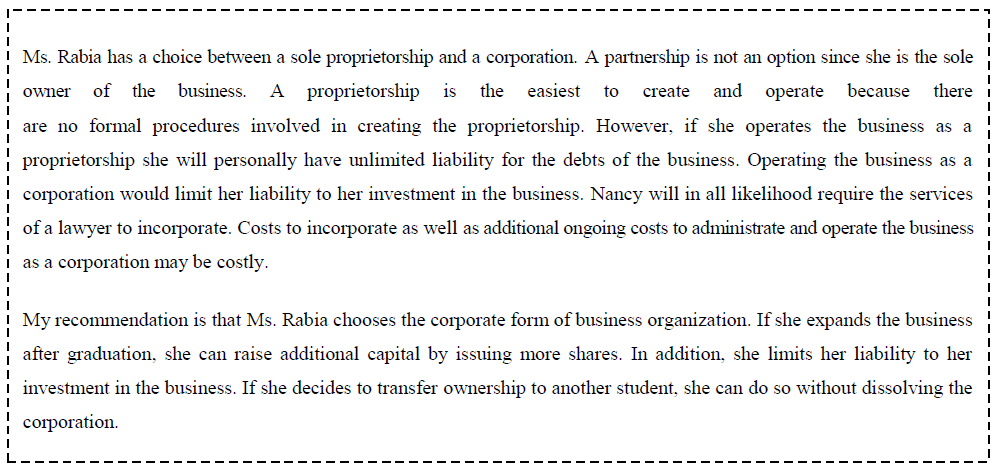 Question 2:
Will Ms. Rabia needs accounting information? If yes, what information will she need and why? How often will she need this information?
Solution:
Question 3:
Identify specific asset, liability, and equity accounts that Cookie Creations will likely use to record its business transactions?
Solution: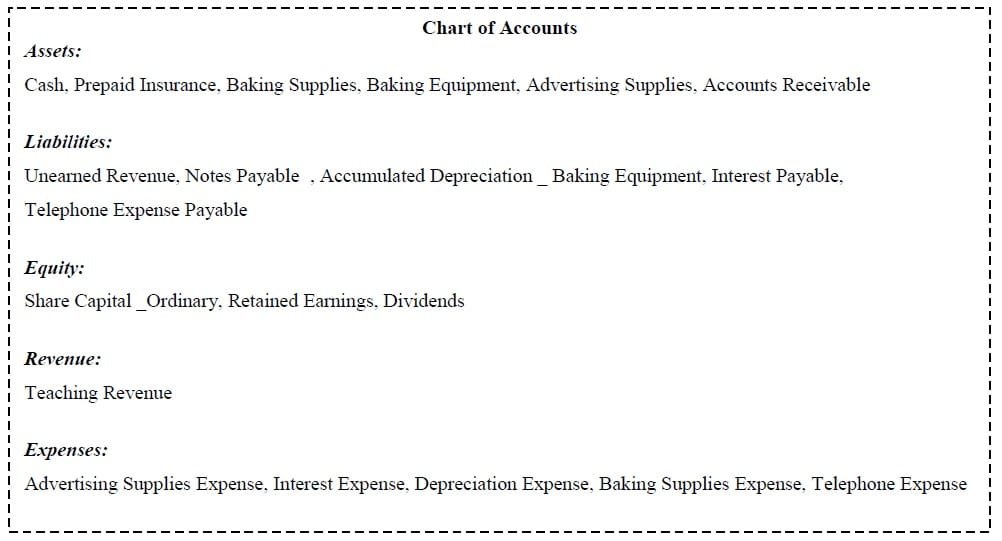 Question 4:
Should Ms. Rabia open a separate bank account for the business? Why or why not?
Solution:
Journal Entries for November, 2017
After researching the different forms of business organization, Ms. Rabia decides to operate "Cookie Creations". She then starts the process of getting the business running. In November 2017, the following activities take place.
Nov 08. Ms. Rabia cashes her Savings Bonds and receives $520, which she deposits in her personal bank account.
Nov 09. She opens a bank account under the name "Cookie Creations" and transfers $500 from her personal account to the new account in exchange for ordinary shares.

Nov 11. Ms. Rabia pays $165 to have advertising brochures and posters printed. She plans to distribute these as opportunities arise.
Nov 13. She buys baking supplies, such as flour, sugar, butter, and chocolate chips, for $125 cash.