Finance Basics
Finance is the study of how individuals, institutions, government and businesses acquire, spend and manage money and other financial resources. Finance is the science of managing financial resources in an optimal pattern i.e. the best use of available resources. Finance basics are the study of how and under what terms savings (money) are allocated between lenders and borrowers. Finance consists of three interrelated areas:
1. Financial Management
2. Market and Institutions
3. Investment
1. Financial Management
Financial management is involving the arrangement of un-arranged financial resources of the firms. It studied how to best find and use investments and financing opportunities in an ever-changing and increasingly complex environment of the business, however, financial management involves:
Acquisition
Financing
Management of Assets (with some overall goals in mind)
Source and Use of fund both in Short Term and Long Term
2. Financial Markets and Financial Institutions
Financial market is a market for creation and exchange of financial assets. There are different ways of classifying financial market:
Equity market is a market for internal or floating claim like common share and preference shares.
Debt market is a market for external or fixed claims like bonds and debenture
Money Market is market for short term financial claims of debts (within one year)
Capital Market is market for long term financial claims of debts and equity (beyond one year)
A market that involves the issue of new securities by the borrower in return for cash from investors (Capital formation occurs) is called Primary Market.
Secondary Market deals of buying and selling of existing securities. Funds flow from buyer to seller.  Seller becomes the new owner of the security (Capital formation is not occur).

A Cash or Sport Market is one where delivery occurs immediately
Forward and Future Market is one where delivery occurs at a Pre-determined time in future
Financial Institution deals with Finance. Channeling Finance from Saving Surplus to Saving Deficit Unit of Economy. Concerned with Financial Instrument. Accept deposit and Advance loan, difference is Spread
3. Investments
Investments are focuses on the decisions of both individual and institutional investors as they choose assets for their Investment Portfolios. Use money to make or gain more money. Commitment to fund assets. Purchase of Capital Goods
Decision Making
Decision making is the study of identifying and choosing alternatives based on the values and preferences of the decision maker. Making a decision implies that there are alternative choices to be considered, and in such a case we want not only to identify as many of these alternatives as possible but to choose the one that best fits with our goals, objectives, desires, values, and so on.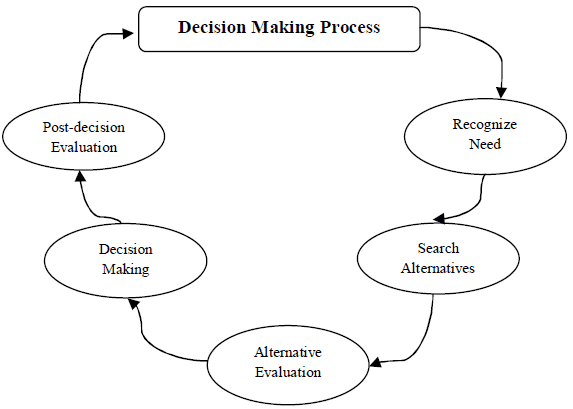 Financial Decision Making
Financial Decision making is the study of planning, evaluating and drawing decisions in the course of business. What type of investments do we need? In other words, what type of assets will be required to support the business. Where the money will come from? Sources of investments to be determined in black and white. How we will finance our day to day monetary matters like purchase of raw materials and payment of salaries etc. There are three type of financial decision available for business:
Investment Decisions
Determination of total assets
Composition of assets
Financial Decisions
Determine mix of Finance (Debt and Equity)
Dividend Policy
 Assets Management Decisions
Efficiently and Effectively
Current Assets
Fixed or Long Term Assets
>> Practice Multiple-Choice Questions with Answers: Finance Basics MCQs
Goals of the firm
Maximize the wealth of shareholder. Represent by Market Price of Share. Reflect the Investing, Financing and Assets Management Decisions. Profit maximization is short term goad of business
Organizational Structure

Business Environment
Business environment can be consists of internal and external environment
Internal Business Environment: Internal environment of business normally consists of the following
(a) Finance                                                                                            (b) Marketing
(c) Human Resources                                                                         (d) Operations (Production, Manufacturing)
External Business Environment: The following business environment factors outside an organization have a profound effect on the functions and operations of an organization.
(a) Customers                                                                                       (b) Suppliers
(c) Competitors                                                                                    (d) Government/Legal Agencies & Regulations
(e) Macro Economy/Markets
>>> Practice Multiple-Choice Questions with Answers: Finance Basics MCQs
Separation of Ownership and Control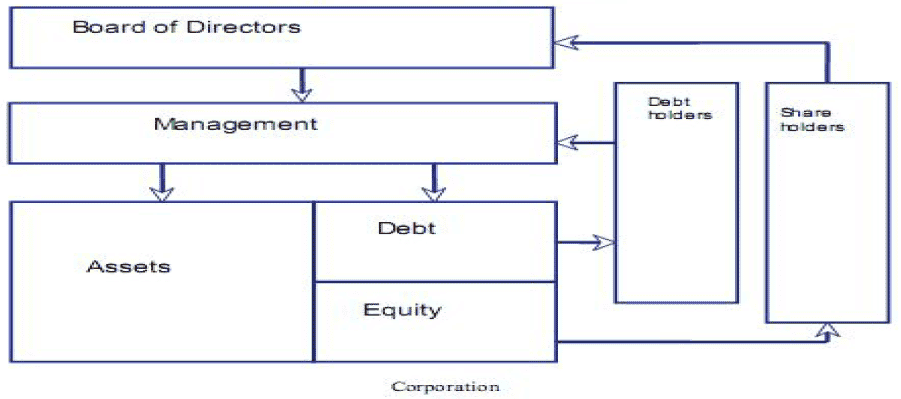 Real Assets and Financial Assets
Real assets are tangible things owned by persons and businesses. Residential structures and property. Major appliances and automobiles. Office towers, factories, mines. Machinery and equipment. Financial assets are what one individual has lent to another. Consumer credit / Insurance Policy
Loans / Mortgages
Shares / Bonds
Agency Theory
Agency theory, developed in the 1970s, a theory concerning the relationship between a principal (shareholder) and an agent of the principal (company's managers). Principal hires an agent to represent their interest (Shareholders vote for the board of directors, who in turn hire the management team). Issues such as remuneration, accounting techniques or risk-taking are among the major concerns of both parties in this relationship. Conflict of interest between principal and agent because managerial goals may be different from shareholder goals. Incentives can be used to align management and stockholder interests. The incentives need to be structured carefully to make sure that they achieve their goal. The threat of a takeover may result in better management.