General Ledger Problems and Solutions
General Ledger Problems PDF Download
Problem 1:
Creative Advertising, owned by Miss Abida Masood, provides advertising consulting services. During January 2011, the following events occurred:
Jan. 2     Owner contributed Rs. 50,000 and a new computer costing Rs. 20,500 to start her business.
Jan. 4     Office supplies were purchased on account for Rs. 4,000.
Jan. 10   Creative Advertising obtained 12% 5-year loan of Rs. 20,000 from the bank.
Jan. 12   Creative Advertising paid the utility bills for Rs. 2,750.
Jan. 15   Paid the Rs. 3,000 in Accounts Payable from the purchase of office supplies on Jan. 4.
Jan. 24   Advertising services completed in January were billed to clients Annies' Flowers at Rs. 18,300.
Jan. 27   Creative Advertising received Rs. 5,500 from Annies' Flowers, a client, as payment on account.
Jan. 30   Miss Abida Masood withdrew Rs. 6,000 of cash for personal use.
Requirement: Your are required to pass Journal Entry, post to appropriate general ledger account and make a trial balance?
Solution: Journal Entry

Solution: General Ledger and Trial Balance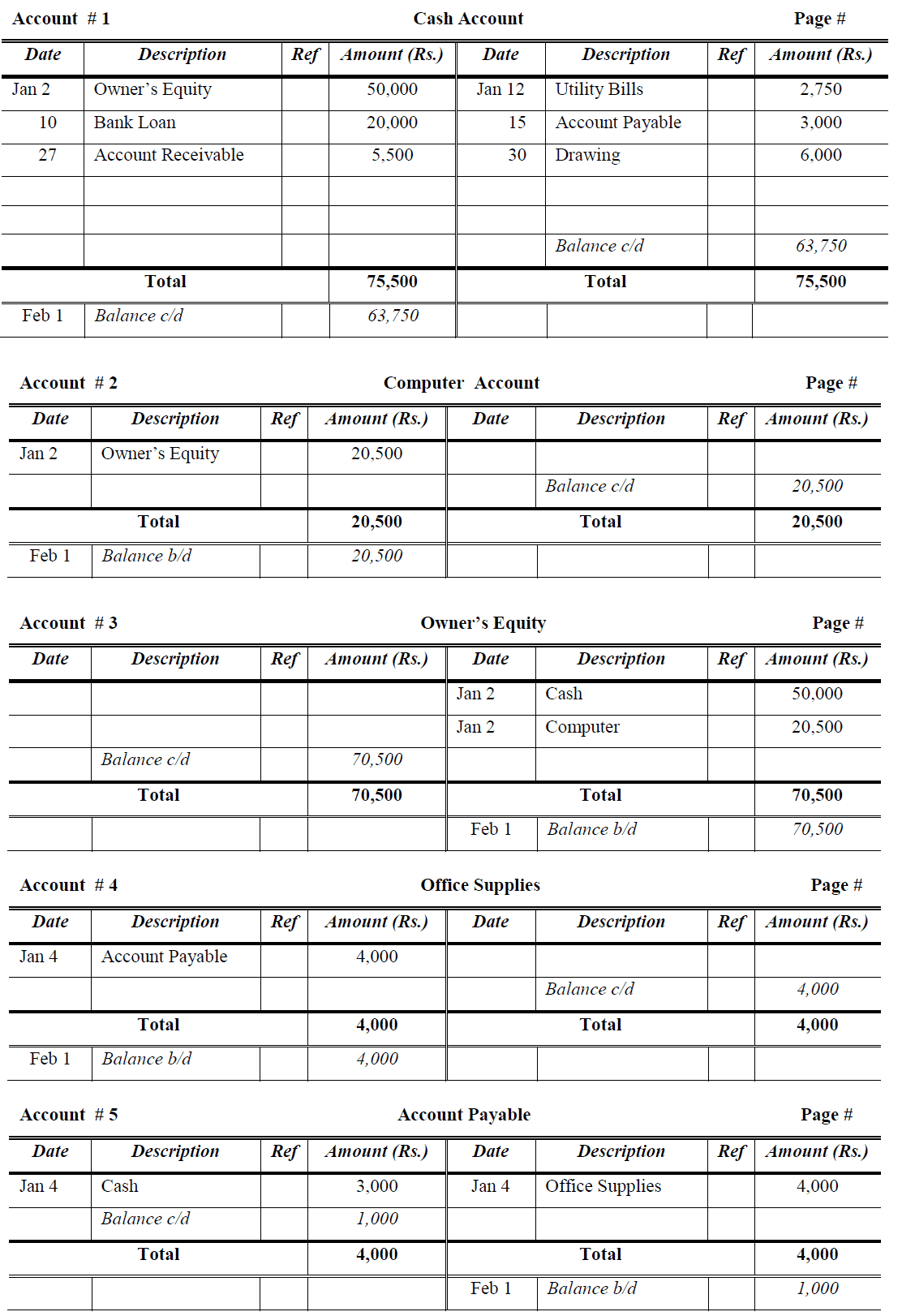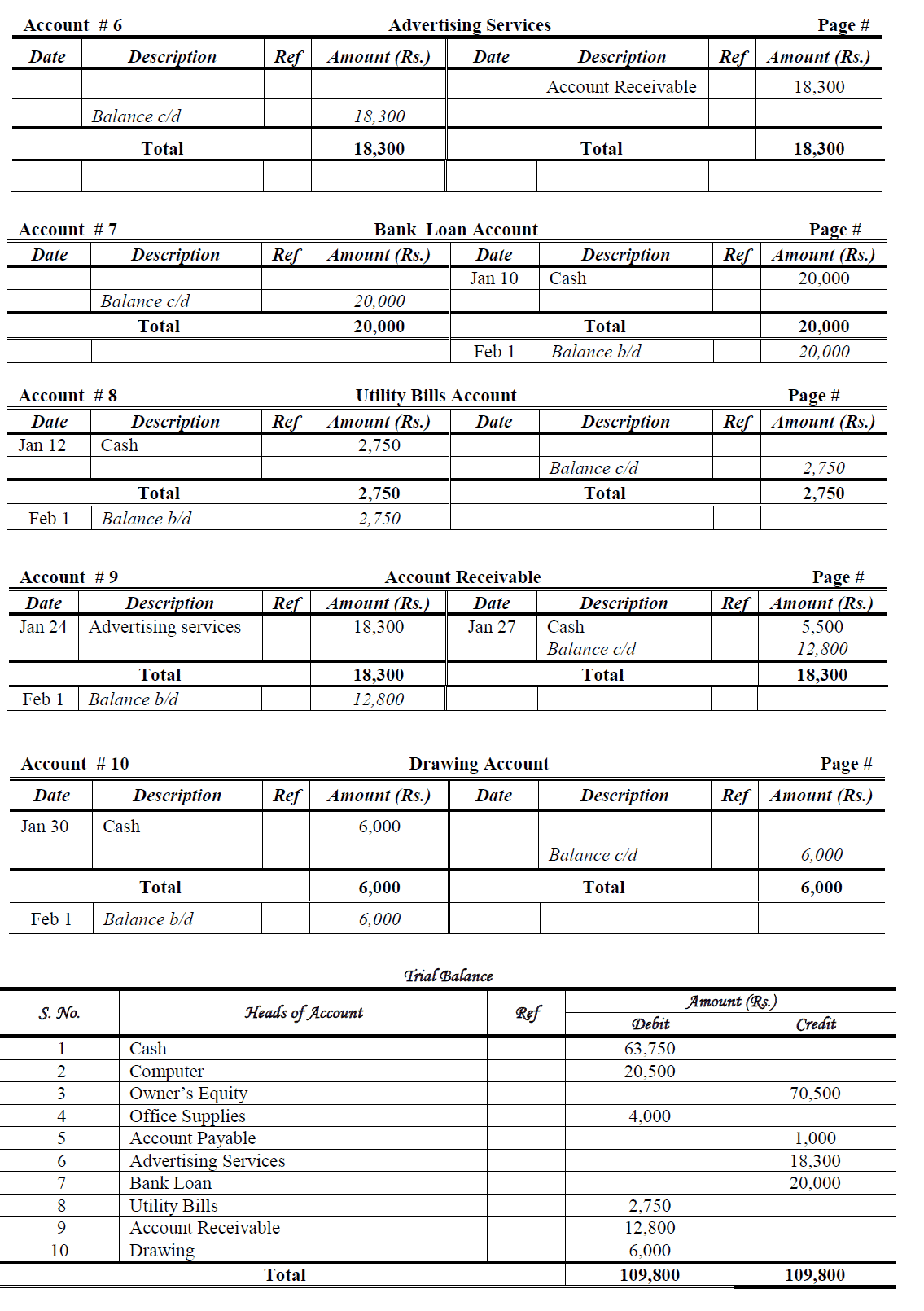 Problem 2:
Shah Garden Center is retail garden supplier. Record the transactions needed to journalize, post to respective ledger account and prepare Trial Balance of the following for October, 2011 of the current year:
Oct. 2     Purchased inventory on credit terms of 1/10 net 30. FOB shipping point, for Rs. 3,000. Freight charges on the purchase were Rs. 150.
Oct. 9     Sold garden supplies on credit terms 3/20 net 30, FOB shipping point, for Rs. 4,000. The cost of the supplies sold was Rs. 2,500.
Oct. 10   Paid the amount owed on account for the Oct. 2 inventory purchase.
Oct. 15   Received merchandise that was returned as defective, originally sold for Rs. 500 on Oct. 9. The original cost of the supplies returned was Rs. 275.
Oct. 25  Received payment on account for the Oct. 9 sale less the appropriate sales discount.
Oct. 28   Inventory lost by fire of cost Rs. 350.
Solution: Journal Entry

Solution: General Ledger and Trial Balance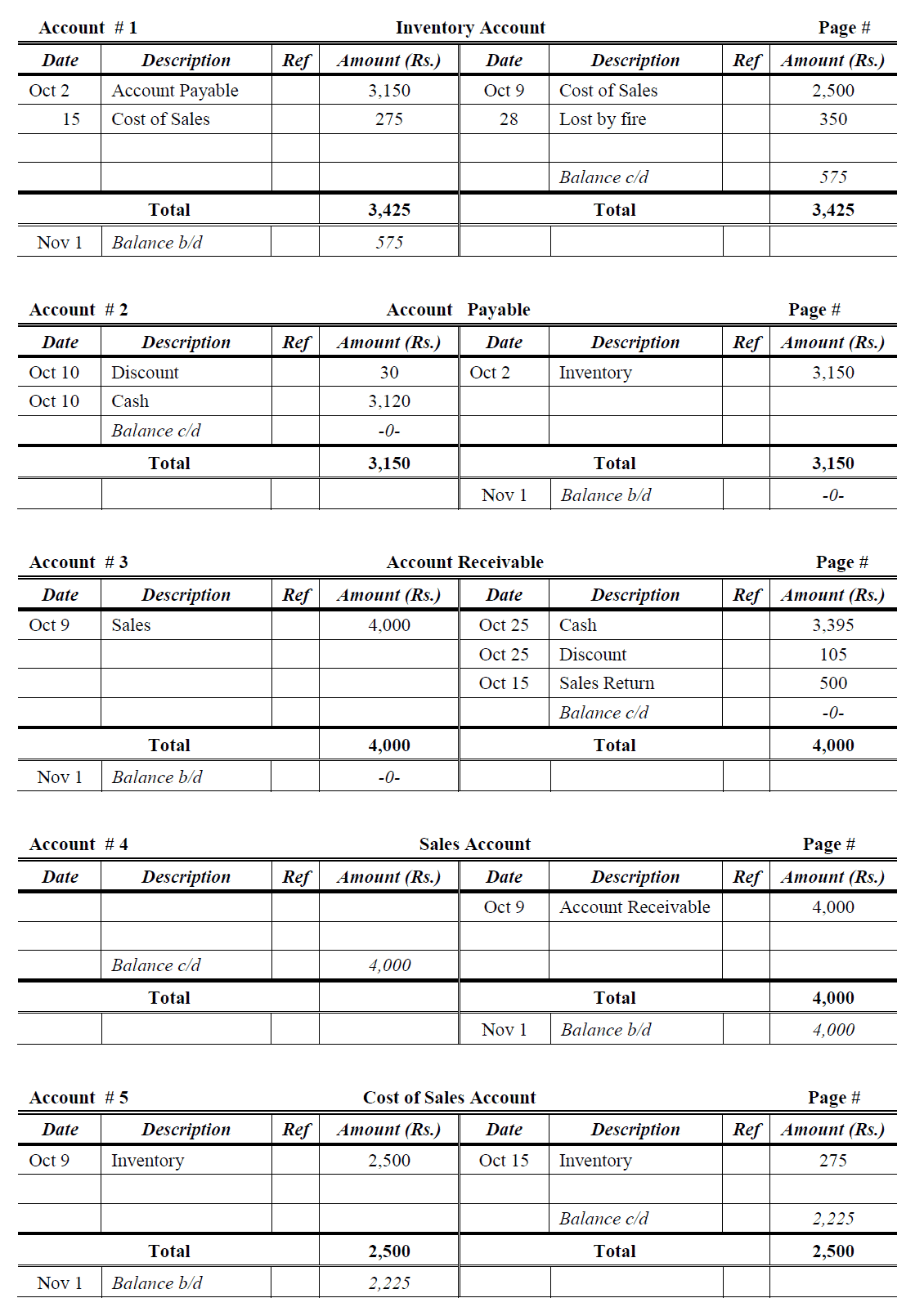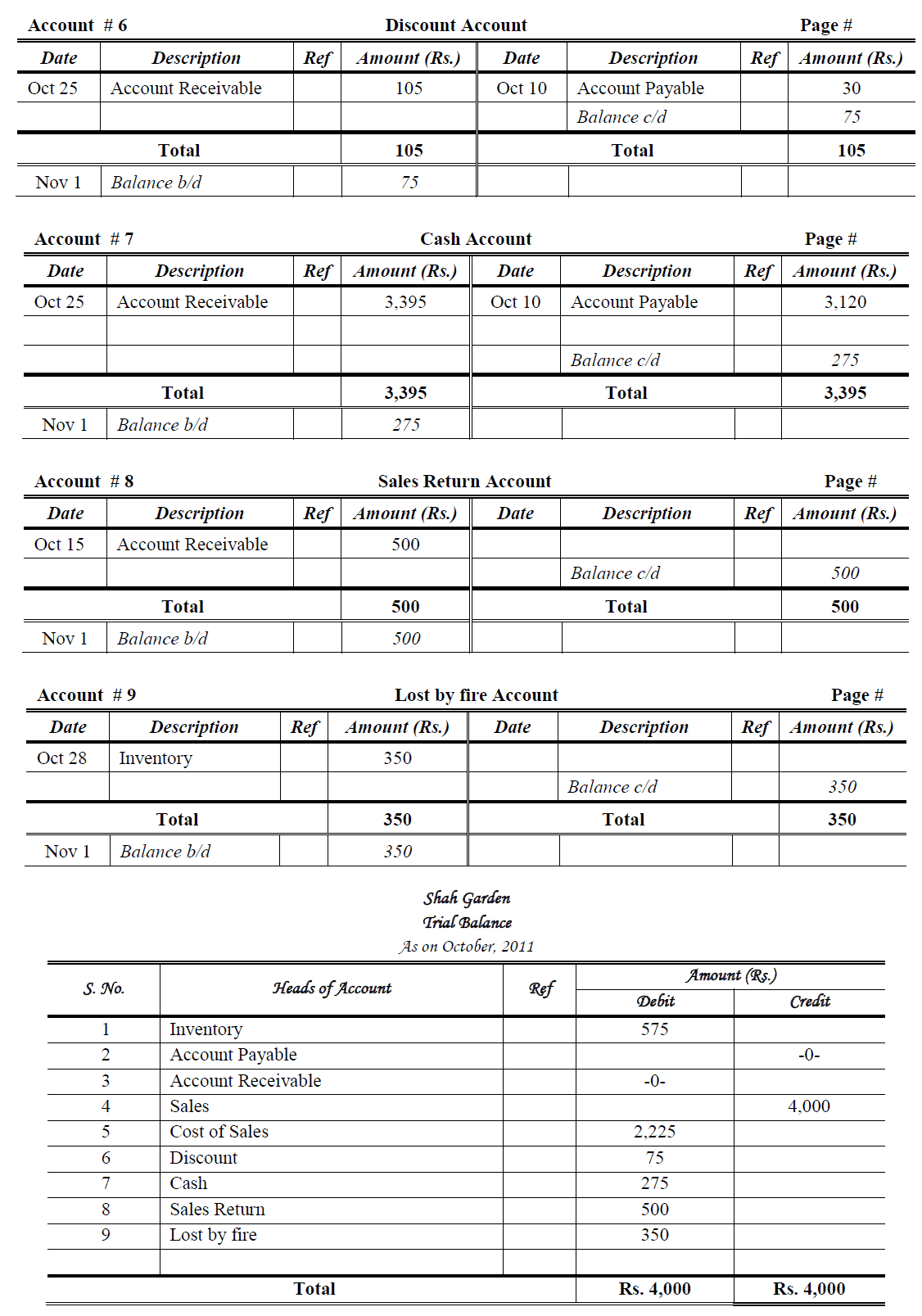 Problem 3:
Record following transaction in T accounts directly?
Problem 4:
Post transactions to appropriate T-account & make Trial Balance for ABC Ltd as on June 30th, 2008:                                                          
Owner investment in Cash Rs. 10,000
Borrowing Rs. 1,000 from a local bank on a Note due in three months
Purchase Equipment of Rs. 500, paid Rs. 100 Cash and promising the rest on a Note Payable
Paid Rs. 150 for Stationery
Lent Rs. 200 to an employee who signed a Note promising to repay within 60 days
Service Revenue received during the period is Rs. 5,800
Paid Insurance for three year at start of this accounting period Rs. 1,800
Service Revenue of worth Rs. 1,200 earned but not received
Insurances expired recorded as Insurance Expense of Rs. 600
Personal withdrawal of owner of Rs. 700
Solution: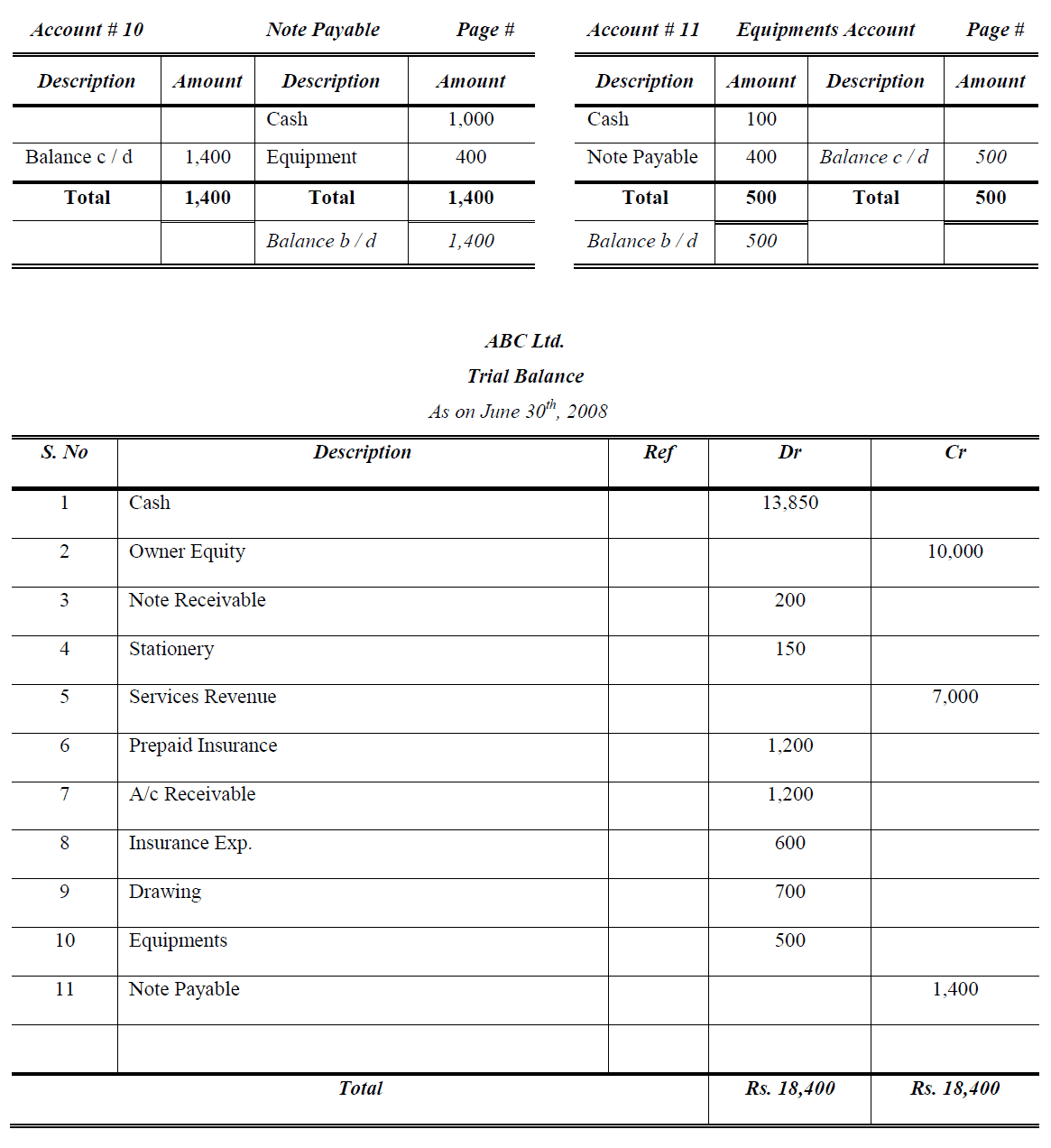 Problem 5:
Post transactions to appropriate T-account & make Trial Balance with Totals and Trial Balance with Balances and Totals for ABC Ltd as on March 30th, 2008:
Ahmed Bajwa, an interior decorator, completed the following transactions during the month of March 2008.
Begun his business with Equipment valued at Rs. 80,000 and placed Cash Rs. 100,000 in a business Bank Account.
Purchase a used Motor Car costing Rs. 50,000 and paid by check.
Completed painting a two-story house and billed the customer, Rs. 24,800 (Account Receivable Dr).
Received cash for painting two rooms, Rs. 5,000. It was kept in cash till.
Hired assistant to work with him, to be paid Rs. 100 per day.
Purchase supplies for Rs. 14,600 and paid by check.
Paid assistant for six days work, Rs. 600 in Cash.
Received cheque for painting five room apartment Rs. 33,600 and check is not deposited.
Transfer Rs. 2,000 to Business Bank Account.
Solution:

>> Read General Ledger chapter.
Related Topics
General Ledger Problems Pdf