Double Column Cash Book
Double column cash book or two column cash book shows two amount column in debit side and same column in credit site. The most common two column cash book are:
1. Cash book with discount and cash columns
2. Cash book with cash and bank columns
A two column cash book is one in which there are two columns on each side. One is used to record cash transactions, the second is used to record bank transactions or discount. When a trader keeps a bank account it becomes necessary to record the amounts deposited into bank and withdrawals from it.
>>> See Double Column Cash Book Format for hard-copy practice.
Contra Entry
When an entry affect both cash and bank accounts it is called a contra entry. Contra in Latin means opposite. In contra entries both the debit and credit aspects of a transaction are recorded in the cash book itself.
Cheque/Check is drawn for office use
Cash is deposited into bank by office
Not deposited check when deposited
If an amount is entered on the debit side of the cash book, and the exact amount is again entered on the credit side of the cash book, it is called contra entry
Such entries are marked in the cash book with the letter "C"
Two conditions for contra entries are in terms of journal entries are below:
>>> Cash Book MCQs
Double Column Cash Book Examples
Example # 1:
On January 1, 2017, Humna Faisal's cash book showed debit balance of cash Rs. 1,500 and bank Rs. 12,500. During the month of January following business was transacted:
2017     
Jan.1         Deposited cash Rs. 500 to business bank account.
"        7         Purchased office furniture for cash Rs. 700; cash sales Rs. 2,000.
"        9         Received from Mr. Shabir a cheque for Rs. 2,550 in part payment of his account and not   deposited.
"       12       Paid by cheque for goods purchased to Mr. Gulzar worth Rs. 1,000.
"       18       Drew from bank for owner domestic use Rs. 200.
"       21       Sold merchandise to Zeshan Bros. for Rs. 1,500 who paid by cheque which was deposited in   the bank.
"        24       Paid to Mr. Salman Rs. 900 by cheque.
"        28       Deposited into bank the cheque received from Mr. Shabir.
"        29       Paid salaries by cash Rs. 950.
"         30       Drew from bank for office use Rs. 450.
Requirement: Draw up Cash Book with Cash and Bank Columns.
Solution: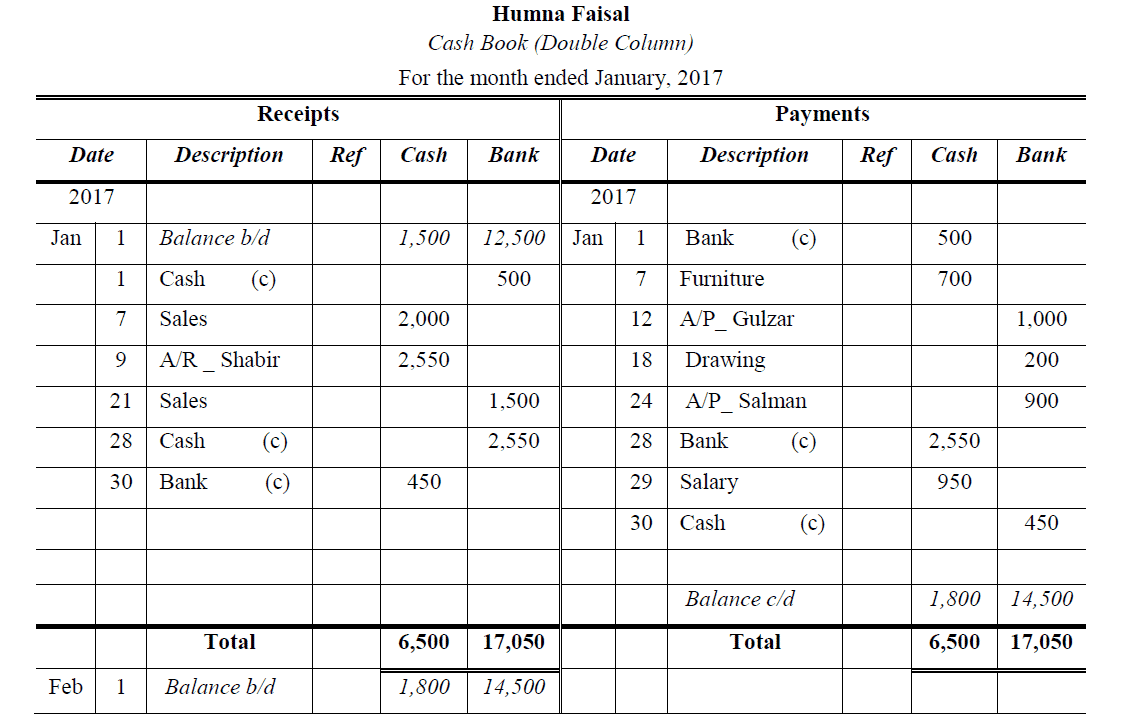 >>> Practice Cash Book Quiz 2.
References
Awais, Q. M. (2009). Fundamental of Financial Accounting. (2nd, Ed.) Lahore: Waheed Publication.
Bazley, M., Hancock, P., Berry, A., & Jarvis, R. (2001). Contemporary Accounting. (4th, Ed.) UK: International Thomson Business Press.
Ghani, M. A. (1992). Principles of Accounting. (13th, Ed.) Lahore: Pak Imperial Book Depot.
Gupta, R. L., & Radheswamy, M. (2009). Advanced Accountancy (Vol. I & II). New Delhi: S Chand & Co.
Jain, S. .., & Narang, K. N. (2014). Advanced Accountancy. New Delhi: Kalyani Publishers.