Bookkeeping
Bookkeeping should not be confused with Accounting or accountancy. Persons with little knowledge of accounting may fail to understand the difference between these terms and often used to mean the same thing. Therefore, it is useful to make a distinction. Bookkeeping is a small part of the field of accounting and the simplest part, just like arithmetic is a small part of the broad discipline of mathematics. Its work is clerical nature and can be performed by office workers, machine and computers. The functions of bookkeeping is to properly record the financial transactions in the Books of Accounts. It is recording or first phase of an accounting system.
>> See Accounting Definition.
Accounting
The process of accounting begins where the bookkeeping process ends. Accounting is broad subject and final phase. The function of accounting is to classify the recorded transactions, summarize them, interpret them, and collect and communicate necessary information to the management and other interested parties. Accounting includes not only maintenance of accounting records, but also the preparation and interpretation of Financial Statement.
>> See Principles of Accounting Course.
Accountancy
The two words accounting and accountancy are often used to mean the same thing. But it is not correct. Accountancy is the main subject while, accounting is one of its branches. The word "accountancy" is far extensive; i.e. the scope of accountancy is far a wide and extensive compared to accounting. It covers the entire body of theory and practice, e.g. bookkeeping, accounting, Costing, auditing, taxation etc.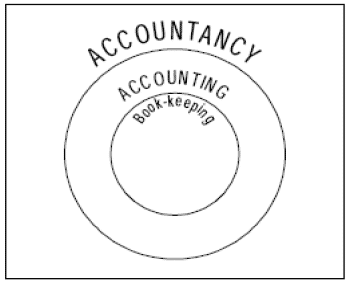 >> See for more information Accounting Basics.
References
Mukharji, A., & Hanif, M. (2003). Financial Accounting (Vol. 1). New Delhi: Tata McGraw-Hill Publishing Co.
Narayanswami, R. (2008). Financial Accounting: A Managerial Perspective. (3rd, Ed.) New Delhi: Prentice Hall of India.
Ramchandran, N., & Kakani, R. K. (2007). Financial Accounting for Management. (2nd, Ed.) New Delhi: Tata McGraw Hill.